Generative AI Services to Drive AI-Powered Digital Innovation
Our

Customizable

Generative

AI

Offerings
Explore the power of Generative AI (GenAI) applications including the most popular ones such as ChatGPT, Github Copilot, Bard, and OpenAI, for transforming your business with our LLM and ML-trained AI experts.
Want to know more? Here's our Generative AI services brochure!
Generative AI
Product Engineering & Support
Product development on personalized models, u

ser experience design, and feature enhancement

 

Developing bots for personal assistance, buyer assistance, etc.

L0/L1 customer support & p

ersonalized support assistance using GenAI.
Generative AI
Accelerating QA and Testing
Accelerate test automation deliveries

 

Prompt engineering techniques to develop testing artifacts​

 

ML-based Test Impact Analysis

 
Generative AI
Application Integration with Products/Platforms
Integration with cloud-based products and platforms

 

Integration with legacy software and platforms

 

Plugin development services for better interaction with AI tools

 
Generative AI
Model Development Support
Fine-tuning of LLM models

Code generator platform development

 

Using Open AI, Azure OpenAI APIs

 

Using transformer models in a private environment

 
Technology

stack

we

support
For a quick call-back request, connect with us.
Generative AI-Powered Industry Solutions
Data Center
Leverage GenAI to get valuable insights, enhance security measures, and accelerate product development for data center infrastructure management.
Retail & e-commerce
Personalize customer experience by enhancing features of your platforms with our GenAI solutions for retail and e-commerce.
Manufacturing
Improve overall operational efficiency and productivity by deploying our tailored GenAI solutions for manufacturing.
Digital Native
Empower your digital product development & delivery and enhance user experience, with our GenAI offerings.
Telecommunication
Accelerate telecom product development and enhance customer experience with our AI-powered chatbots, personalized support, and intelligent solutions using GenAI.
SSD/FLASH
Examine and optimize your entire I/O path for high performance, endurance, and reliability.
CLOUD STORAGE
Cloud is the driver of disruption. We help cloud storage providers develop advanced storage solutions and custom APIs.
SOFTWARE DEFINED STORAGE
Leverage our enterprise-class data storage management solutions to manage, protect, access, and restore your business data.
HCI
Rapidly design, develop, and deploy products while maintaining storage resiliency, optimal levels of data security, and more
DATA PROTECTION
We offer backup & recovery solutions for a wide range of workload needs for present-day requirements as well as future loads.
DATA DE-DUPLICATION
Solutions that protect a wide range of environments, right from small distributed offices to the largest enterprise data centers.
Introduction

to

Generative

AI
In this captivating video, Shrish highlights how generative AI can revolutionize your software product development and testing process.
From rapidly creating prototypes and generating code to producing diverse content, such as text, images, and videos, generative AI offers unparalleled benefits.
Experience increased speed, reduced costs, and improved product quality as you leverage GenAI technology. Explore the endless possibilities of generative AI and how it's reshaping the future of software development in this video.
Download this insightful Whitepaper covering Calsoft's offerings around Generative AI Technologies
Download our detailed Whitepaper here.
Generative

AI

Case

Studies
Generative AI : Transforming Industries for Success
Artificial Intelligence (AI) has become an indispensable tool across various sectors, revolutionizing the way businesses operate. One of the latest and most exciting branches of AI is Generative AI, a technology that enables….
Generative AI and the changing face of Software Development Lifecycle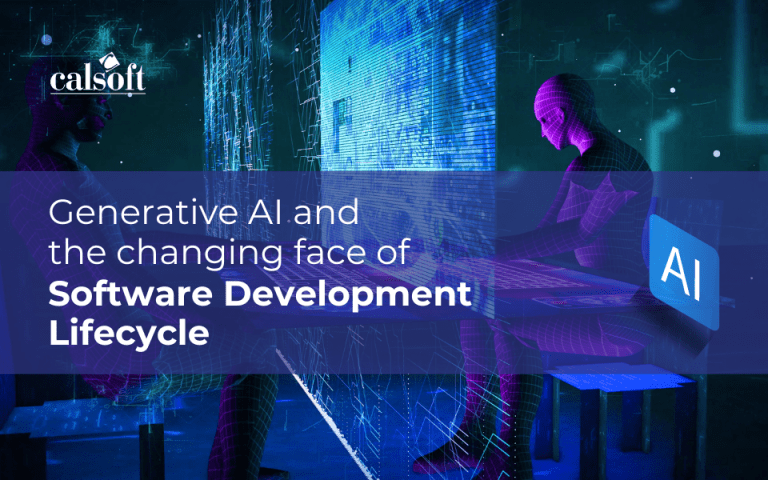 Generative AI is getting a lot of recognition these days. It's a type of artificial intelligence that can create new content, such as text, images, sounds, and code. This technology is having a major impact on the software…