Importance of High Availability Feature in Storage
In the storage domain, basically, a storage system is based on the clusters. A cluster is set of multiple storage servers which used some commodity type of hardware used to store the data. A user can use these clusters directly to store data on it.
The storage servers/computers are basically referred to as Node. A cluster can contain single or multiple nodes in it. The numbers of a node are decided according to business demands and type of operational data. In a small organization, if core business objective is to keep a back-up of a few data files on a fixed interval of time then, single node cluster is sufficient to achieve this goal. Whereas if data manipulation is the core objective of business and data is frequently accessed from cluster then it is very essential to use a multi-node cluster to achieve continuous access to data.
If a frequent operation is data processing like database functionality then as storage vendors, we need to assure the data guaranteed to the customers. Hence data is mirrored in more than one node so that it eliminates data unavailability in case of failures to one node.
"High Availability defined as phenomenon which provides assurance of guaranteed access of resource like storage servers by using some predefined mechanism in case of any failures."
The High Availability feature comes into the picture when our cluster contains more than one node. Let us understand the concept of two node HA cluster.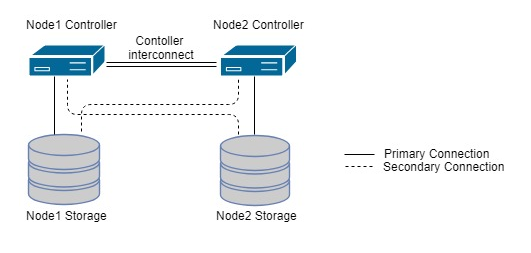 Above diagram shows the typical HA pair, in which both nodes are connected to each controller and each controller is connected other directly. In case of any one node failure, another node takes charge and provides data service until the failure is fixed.
Benefits of using HA pairs in a storage system,
HA provides high data availability.
HA plays an important role to take charge of its partner node in case of failure and give its control back once failure node comes online.
HA provides the smooth service without disturbing current operation.
HA helps to preserve data integrity for client applications.
HA in Multi-Node cluster environment with switches: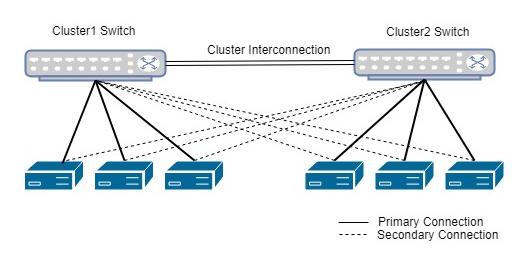 In case if our storage cluster requires more than two nodes then we can add more nodes with the help of switches. In this scenario, we need minimum two clusters to achieve High Availability. Here, each node should connect more than one switch.
Disaster Recovery by using HA cluster:
HA feature plays an important role in Disaster Recovery System (DRS). We can interconnect more than one cluster which is located at different geographically location. In case of any physical damage, if one site goes down then another can take responsibility to serve the data and handover the remaining task once another site recovers from failure.
[Tweet "Importance of High Availability Feature in Storage ~ via @CalsoftInc"]