IoT Evolution Expo 2018 – Jump Forward with IoT Transformation
Come Monday, January 22nd 2018 – the technocrats of the IoT world will assemble in Orlando, Florida for the IoT Evolution Expo 2018. Now in its 19th year of existence, it attracts over 5,000 CXO's and VP's from 90 countries across industries. With 4 days of content spanning the complete IoT ecosystem, it covers Internet of Things (IoT) as the driving force behind improving efficiencies, revenue opportunities and solving business problems across industries.
More about IoT Evolution Expo
At this conference, you will have access to 1000+ technical sessions, expo, certification events, bootcamps, self-paced labs plus an assortment of extra-curriculars like pub crawls, fitness events, parties, and more. You will hear about Enterprise IoT adoption, implementation and the enormous impact these technologies will have on driving operational efficiencies and increasing revenue. The IoT Evolution Expo 2018 consists of the below distinct tracks: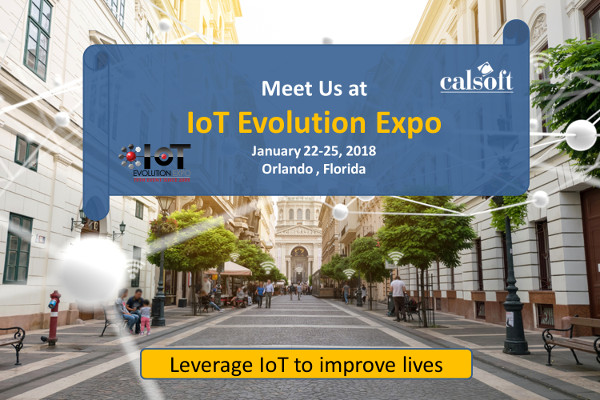 IoT Enterprise Operations: This track will emphasize mostly on the enterprise opportunities especially for the manufacturing industry and the impact of IoT on implementation, infrastructure requirements and role of IoT in optimizing field operations
Business Intelligence and Analytics Track: As IoT churns out Big data, decision making is supported with predictive and prescriptive analytics
Security: Security is a major roadblock in implementing any new technology. Due to regular updates and innovations in IoT, it's of paramount importance to safeguard customers and networks from any possible threats like data breach and redundancy
Smart Cities Conference: Hear more about how customers can create new business opportunities and discover new revenue channels by leveraging the capabilities IoT in smart cities
Industrial IoT Conference (IIoT): will focus on the applications of IoT technologies in manufacturing and industrial operations. The major discussion points will be precarious concerns related to IoT implementation in the manufacturing processes like evaluating sensor data for manufacturing insights, communication between devices, standards and architectures, security and privacy concerns and industrial controls of legacy systems.
IoT Evolution Expo Hall: The IoT Evolution Expo Hall includes a showcase of the leading IoT and M2M solutions providers meeting and talking to the industry's leading minds and IoT strategists
Plan your event
Whether you're a conference veteran or a newbie, you can plan your successful IoT evolution Expo experience. Study the event calendar a lot, and focus on specific sessions, but otherwise you can spend your time on networking, expo hall, and some fun at laid-back events.
Jump forward with IoT transformation
IoT is becoming increasingly visible and is growing at a phenomenal pace. It has made the shift from being a buzzword to an all-inclusive harmony between man, machine, software and data. Calsoft is a leading product engineering services partner in storage, networking, cloud, virtualization domains; and new age areas like Big data, IoT, analytics and machine learning. Calsoft specializes in building software for gateways, designing IoT applications from scratch as well as implementing IoT functionality into existing systems. Our IoT services enable customers to connect their devices to the internet, turning them into smart devices. Calsoft works with product and platform providers to augment their products in the machine-to-machine ecosystem while delivering a smart, safe and connected experience for enterprises.
What interests you most about IoT Evolution Expo?
IoT Evolution Expo is of special interest to our team to validate and expedite the work we've been doing in IoT. Some specific sessions that we very much are looking forward to are:
The Technology of Fog Computing: Architectural Overview & Security Considerations
IoT and Airport Logistics: Before Take-Off and After Landings
Managed Connectivity and Industrial IoT Solutions
IoT Sensors: Hardened and Tested
Using Artificial Intelligence (AI) to Improve Lives
IoT for a Competitive Advantage? Strategic Networking Considerations to Accelerate Time-to-Value
Standards from Edge to Cloud
Building Heterogeneous Networks
Next Generation Wireless – How Does 5G Narrow Band Improve our Quality of Life
IIoT and AI: Thinking Linking Things
Consult your IoT architecture and security needs with us
We can discuss your IoT journey, support innovation, and accelerate your digital transformation. Meet the Calsoft IoT Centre of Excellence (CoE) architects alongside IoT experts who will be at the event. If you would like to jump forward your business with IoT transformation, drop a note to marketing@calsoftinc.com and we would be glad to consult.
[Tweet "IoT Evolution Expo 2018 – Jump Forward with #IoT Transformation @IoTEvolution ~ via @CalsoftInc"]