Automation Approaches
Introduction
Define Automation Test Strategy in Agile based Product Development. For version 1.0 Release.
Define Risks & Mitigation Plan
Product Development is done using Agile-SCRUM Methodology
Product is a web based application.
Definition of "Ready" for User Stories is met before Sprint Starts.
The First Release is tagged and labelled as Version 1.0
One Milestone constitute of 3 Sprints
One Sprint is of 10 working days.
0% Automation Coverage is achieved but needs to be increased, however keyword driven framework is adopted based on objects.
Automation Tool is Finalized and considered in Project Kick-off.
Development Team combination is of 6 Developers and 3 QA.
Continuous Integration (CI) is adopted.
To prepare an Automation Test Strategy that could achieve maximum automation
To meet the deadline
To ensure quality and meeting acceptance criteria
Adopt Parallel Approach
Adopt Lagging Approach
Solution I- Parallel Approach
The objective of this Approach is to perform Development of User Stories and Automation of User Stories in the same Sprint parallely
The Test team starts automation/script created based on designs, screens and mockups.
The Test team executes the scripts created on the build and notifies by logging bugs either in the same week or next week (In the same sprint)
This can be better explained in the next diagram
Risks and Mitigations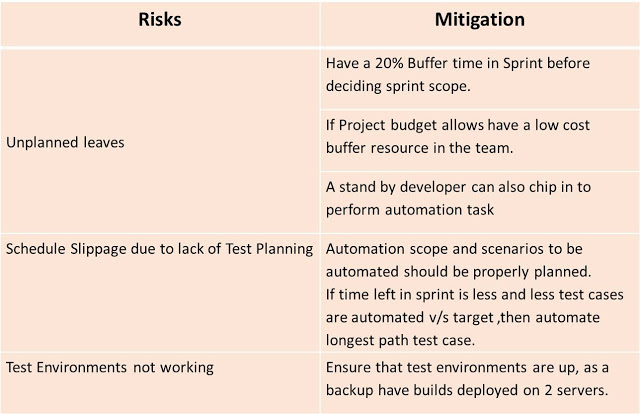 Solution II- Lagging Approach
The objective of this Approach is to perform Development of User Stories in Sprint n and Automation of User Stories in the n+1 Sprint
The Test team starts automation/script created based stability of user stories delivered in Sprint n
The Test team performs Manual Testing in Sprint n
The Test team executes n-1 Sprints scripts i.e scripts of previous sprint
However in this approach 100% automation for Release 1.0 is not achieved
This can be better explained in the next diagram
To know more email: marketing@calsoftinc.com
Contributed by: Sagar Abhyankar| Calsoft inc